11
Feb
2009
Mendoza, Argentina — Day 1
|
Wine tasting in Mendoza is quite a bit different than in the US.  The concept of people randomly dropping by a winery to try the wine is a very new concept for Mendoza.  Each winery typically has 24 hour on-premise security to deal with potential break-ins / theft.  Given the level of security, it is necessary to contact the winery ahead of time (typically at least a day) to set up a time to visit.  My wife, Jen, set up the touring for the day using a local tour service — Amphora Tours.  I would highly recommend using Amphora tours as they know quite a few of the local wineries and which wineries make up a good tour.  They provide a one day tour of the valley and a one day tour of the Uco Valley (higher elevation and further away from downtown Mendoza). 
Day 1 tour of the valley included four wineries: Clos De Chacras (a "boutique" bodega in the Chacras region of Mendoza), Renacer (a mid-sized bodega in the Lujan De Cuyo wine region), Ruca Malen (a large production bodega in the Lujan De Cuyo wine region ) and finished the day at Bodegas Benegas (in the Lujan De Cuyo wine region).  The four wineries were a great snapshot into the winemaking traditions of Mendoza, how the winemaking techniques have evolved over time and what the future direction of the winemaking in Mendoza. 
The Mendoza region is considered high-desert with sudden and very violent hail storms.  The valley floor vineyards were nearly all covered in protective hail nets.  Initially, I thought the netting was for protection from birds but our tour guide told us about the severity of the hail storms.  The week before our visit, a large area about 300 KM south of the valley was hit by a very bad hail storm that wiped out the entire vintage in the area; after the hail stopped falling, there was baseball sized hail about two feet deep on the ground!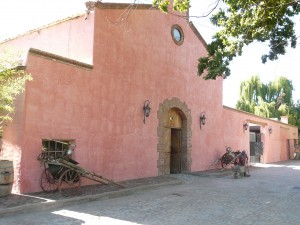 Clos De Chacras is a very old winery (100 year+) which has been family owned for most of its existence.  The winery did change hands once during the 1970's economic problems in Argentina.  The winery production is very small by Mendoza standards — about 6500 cases of wine per year.  All the production techniques are similar to what is done at Crushpad with the exception of the use of concrete fermentation and storage tanks.  The concrete tanks insides are covered with epoxy every two years to avoid cement and wine interactions.  The oldest concrete tanks from the 1920's have been converted into caves for bottle aging.  The winemaker is a young man who recently graduated from one of the local winemaking schools in the valley.    We tried three wines: 2005 Cavas De Crianza, Merlot ($8 USD or 24 pesos), 2005 Cavas De Crianza, Cabernet Sauvignon, Mendoza ($10 USD or 30 pesos), and 2005 Gran Estripe blend ($29 USD or 84 pesos).  All three wines were quite good especially for the price point.  The Gran Estripe I would say is an excellent wine.  If you have a chance to try any of these wines, you really should.
ReNacer is considered a small producer by Mendoza standards.  The location is beautiful, great
facilities and a lovely tasting room.  The winery uses stainless steel tanks for fermentation (at the moment) and mostly french oak barrels.  The winery is currently constructing a set of underground cement fermentation tanks to help control the fermentation temperatures and use the ground's natural temperature to keep cooling energy costs down.  The use of cement tanks is coming back into vogue in the Mendoza Valley.
As part of our tasting experience, we got to do a blending experiment using Malbecs grown from three different regions in Mendoza: Ugarteche (700m altitude), Agrelo (990m altitude, clay and medium sized rocks in the soil), and La Consulta (1100m altitude, rocky soil, less hail due to proximity to the Andes).  Ugarteche sourced malbec was pronounced perfumed with aromas of roses, coffee, plum, blackberry, and boysenberry, medium+ tannins, medium+ alcohol and flavors of coffee, boysenberry and raisin/fig.  Agrelo sourced malbec was medium+ intensity on the nose, aromas of violets, rose, cedar, smokey red cherry, black fruit;slightly drying medium+ tannins with flavors of black cherry, black currant, smoke, cedar and a slight savoriness on the palate.  La Consulta sourced malbec was medium+ intensity on the nose with aromas of rose, cherry and flavors of red cherry, slight cranberry, black cherry.  The higher the altitude, the fresher the fruit flavors. 
For people who have not tried blending wine, I highly suggest it as it is an eye-opening experience.  You realize that blending truely is an art . You must be patient, methodical in analysis of your components and each blend you try, take good notes and have an open mind to new blends.  Wine chemistry is very sensative in how a slight change can drastically alter what you smell, taste and how the wine feels in your mouth.   As a winemaker, I started off the blending session with 50% Agrelo, 30% Ugarteche and 20% La Consulta — I like it quite a bit which was surprising since it was the first attempt after tasting the components.   Jen made an interesting blend of 75% La Consulta, 15% Ugarteche, 10% Agrelo; the blend would be great after 3 to 4 years of bottle aging and the fruit of the Agrelo did a lot to help make the tannins of the La Consulta more approachable.  After the blending session was over, we did try three wines from ReNacer: 2007 Malbec, punto final Classico, Mendoza (32 pesos or $10 USD); 2006 Malbec punto final Reserva, Mendoza; 2007 Enamore, ReNacer+Allegrini, Mendoza ($40 USD).  All the wines were very good especially the Enamore.
Our third winery stop was combined with lunch.  We had a fantastic 5 course lunch at Bodega Ruca Malen.  Each course was paired with a wine from the winery.   The wines we tried were 2007 Yauquen Chardonnay (21 pesos), 2007 Yauquen Malbec (21 pesos), 2007 Ruca Malen Petit Verdot (42 pesos), 2006 Ruca Malen Cabernet Sauvignon ($40 USD), and 2007 Kinien Malbec.  The wines were very well paired with the food.  We did get to try a local drink called Mate which is similar to tea but has a strong dried herb taste. The Petit Verdot was probably my favorite wine at the meal.
The last winery we visited was Bodega Benegas.  This is a recently renovated 100+ year old adobe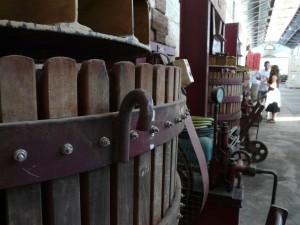 winery.  The winery has some very old estate vines — 75+ year old Sangiovese and 100+ year old Cabernet Franc vines.  The new owner has put in $3 to $4MM USD into the renovation.  The facility is quite impressive with a very nice cellar for barrel aging, converted old concrete fermentation/storage tanks into bottle storage for the 12 month bottling aging given to most of their red wines and a large crushpad area that includes a large number of "smallish" cement tanks used for fermentation.    The cement tanks for fermentation can be heated using natural gas burners to heat the bottom of the tank.  Old pneumatic basket presses are used instead of more modern equipment to get a gentle pressure on the skins.
We tasted the following wines: 2007 Carmela Benegas, Rose of Cabernet Franc & Malbec (31 pesos), 2005 Sangiovese (65 pesos), 2005 Syrah (65 pesos), 2005 Meritage Blend (65 pesos), and 2005 Benegas Lynch, Libertad Vineyards, Cabernet Franc (140 pesos).  The wines were all very good, well made and quite drinkable.  The Rose was a bit too sweet for my personal tastes.  I would highly recommend seeking out Bodega Benegas as the quality of the wine is very good especially at the US price point.
My take aways from the day's tasting were the following: 1) US production costs are going to have to drop significantly if they want to be able to compete with Argentinian wines once the exports start flowing (only about 5% of Argentina production is currently exported), 2) wine quality in Mendoza is very good across the various price points from jug wine to ultra-premium, and 3) the marketing materials are very well-done.  Overall, the US needs to take note of what is happening in Mendoza as the wines from there will be a force to be dealt with very soon!