11
Feb
2009
2005 Gran Estripe blend, Clos De Chacras, Mendoza
|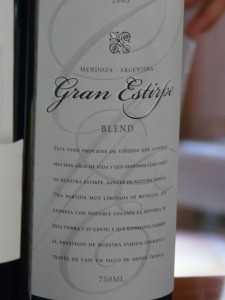 The wine is priced at 84 Argentinian Pesos or $29 USD.  The blend for the wine is 50% Merlot, 20% Malbec, and 30% Cabernet Sauvignon all sourced from the estate vineyards in Mendoza.
Appearance: bright, opaque ruby core -> ruby rim
Nose: medium intensity, clean; Aromas: pencil shaving, cedar, black currant, red berries(slightly dried), mace, allspice.
Palate: high acidity; medium+, slightly drying tannins(some fruit tannins and hint of green tannins); medium+ alcohol; medium+ length; flavors: red cherry, black cherry, vanillin, dried herbs, cedar, black currant; The flavors are complex and layered.
Quality: good to excellent due to the length, complexity, varietal correctness (typicity). 
Note: After 30 minutes, marachino cherry flavors and aromas developed.